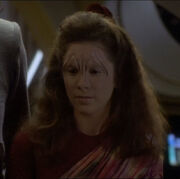 Leslie Engelberg (born 16 June 1975; age 42) (also known as Leslie Kendall and Leslie Kendall Dye) is the actress who played Yareth in the Star Trek: Deep Space Nine episode "Vortex".
Engelberg made her film debut in the 1987 mini-series Nutcracker:Money, Madness & Murder sharing screentime with Lilyan Chauvin, Jonathan Frakes, John Glover, Daniel Hugh Kelly, Frank Military, Robert Schenkkan, George D. Wallace and Noble Willingham. Engelberg then appeared in the teen comedy Big Girls Don't Cry, They Get Even (1992) with Cory Danziger and Googy Gress. Engelberg's only other single guest appearance was on the teen sitcom Clueless starring Wallace Shawn in "Our Lady of Rodeo Drive" (1998).
Engelberg's most prolific work on television was on the briefly aired Charlie Hoover portraying Emily Hoover. Charlie Hoover was not for broadcast but during the show's run, Engleberg worked with Helene Udy in "Two For the Road" and "Mother-in-Law" with Nan Martin both episodes airing in 1991.
External links
Edit
Ad blocker interference detected!
Wikia is a free-to-use site that makes money from advertising. We have a modified experience for viewers using ad blockers

Wikia is not accessible if you've made further modifications. Remove the custom ad blocker rule(s) and the page will load as expected.