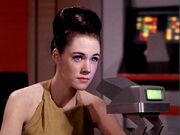 Leslie Dalton (born 12 August 1944; age 73) is an actress from Boston, Massachusetts, who played Drea from the Kelvan Empire in the Star Trek: The Original Series episode "By Any Other Name", credited as Lezlie Dalton.
Dalton went on to become a featured player on Dean Martin's 1970s variety show The Golddiggers. Afterward, she made guest appearances on the Henry Darrow/Anthony Zerbe television series Harry O and two episodes of S.W.A.T. in 1975 and 1976. The following year, she became a regular on the soap opera The Guiding Light, where she stayed until 1981.
External link
Edit
Ad blocker interference detected!
Wikia is a free-to-use site that makes money from advertising. We have a modified experience for viewers using ad blockers

Wikia is not accessible if you've made further modifications. Remove the custom ad blocker rule(s) and the page will load as expected.