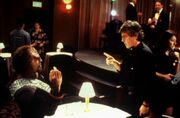 Les Landau is a veteran director of Star Trek episodes in every series except the original. Landau started as first assistant director on the first season of Star Trek: The Next Generation. During this capacity, he replaced director Russ Mayberry on "Code of Honor", when Mayberry was fired by Gene Roddenberry. Later in the season, Landau finally debuted as a (credited) director with "The Arsenal of Freedom".
Dr. Landau, a character in TNG: "Samaritan Snare" that appeared in a directory of names on a set decoration, was named for him.
He has also directed episodes for such television series as Beverly Hills, 90210, seaQuest DSV, Lois & Clark: The New Adventures of Superman, M.A.N.T.I.S., Sliders, JAG, and Dark Angel. He produced and directed the 1998 film Archibald the Rainbow Painter, which starred Star Trek: Voyager actor Robert Picardo, Voyager guest actor Michael McKean, Deep Space Nine actor Andrew Robinson, DS9 guest actress Ann H. Gillespie, and Star Trek V: The Final Frontier actress Spice Williams-Crosby.
Landau served as assistant director on the 1976 film Leadbelly, starring Madge Sinclair and Albert Hall, and as first assistant director on the television series Dynasty, starring Joan Collins and Lee Bergere, co-produced by Douglas S. Cramer, and T.J. Hooker, starring William Shatner, James Darren, and Richard Herd.
Director credits
External links