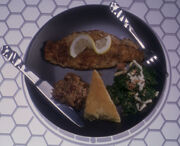 A lemon was a sour citrus fruit native to Earth.
In 2152, the replicator at an automated repair station added lemon wedges to the pan-fried catfish Trip Tucker ordered. (ENT: "Dead Stop")
In 2367, Jean-Luc Picard offered Simon Tarses lemon for his tea, but he declined. Admiral Norah Satie drank her tea with lemon. (TNG: "The Drumhead")
In 2370, Benjamin Sisko requested a Chiraltan tea with a double twist of lemon. (DS9: "Second Sight")
Ensign Michael Parsons usually liked his pejuta hot with lemon. (VOY: "Cathexis")
Lemons were also used to make lemonade. (VOY: "Caretaker", "Future's End")
Metaphorically, a lemon was something that failed to live up to expectations. In 2366, Captain Picard hoped the Barzan wormhole wouldn't turn out as the "proverbial lemon". Data was unfamiliar with the expression. (TNG: "The Price") In 2375, Tom Paris feared that the Quantum slipstream drive was a lemon. (VOY: "Timeless")
External link
Edit
Ad blocker interference detected!
Wikia is a free-to-use site that makes money from advertising. We have a modified experience for viewers using ad blockers

Wikia is not accessible if you've made further modifications. Remove the custom ad blocker rule(s) and the page will load as expected.