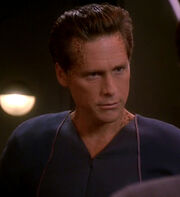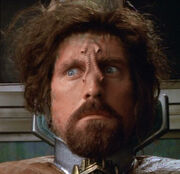 Leigh Joseph McCloskey was born on 21 June 1955 in Los Angeles, California. He was Kelsey Grammer's roommate and classmate at Julliard.
His first Star Trek role was as Tieran in the Star Trek: Voyager episode "Warlord". He was the second actor (Jeff Magnus McBride being the first) to play Joran Dax in Star Trek: Deep Space Nine. He appeared in the season seven episode "Field of Fire".
He has made guest appearances in many other popular television series, including The Streets of San Francisco, Hawaii Five-O, The Love Boat, Mike Hammer, Murder, She Wrote, 3rd Rock from the Sun, Babylon 5 and JAG.
McCloskey has appeared in some films; he is best known for his role as Kevin in the 1985 comedy film Just One of the Guys (with Clayton Rohner, Kenneth Tigar, Stuart Charno and Katy Boyer). He also appeared as Jalor Davin in the 1979 Buck Rogers episode "Cruise Ship to the Stars" (with Tim O'Connor, Felix Silla and Patty Maloney).
He played Mitch Cooper in the soap opera Dallas intermittently, from 1979 to 1988. In addition to acting, McCloskey is also an artist, author and visual philosopher.
External links