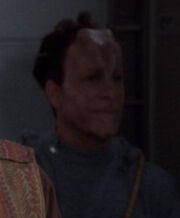 Lee Faranda is an actor who appeared as an alien pilgrim in the Star Trek: Enterprise first season episode "Cold Front" in 2001. His costume was sold off on the It's A Wrap! sale and auction on eBay. [1] [2]
Beside his Enterprise appearance, Faranda had supporting roles in episodes of Too Something (1995), Two Guys, a Girl and a Pizza Place (1999), and The West Wing (2002, with Gregory Itzin, Bill Cobbs, and Timothy Davis-Reed) and in the action thriller Air Force One (1997, with Dean Stockwell, Spencer Garrett, Bill Smitrovich, Dan Shor, Glenn Morshower, Don McManus, Boris Lee Krutonog, Paul Sklar, and Timothy Carhart). Faranda also worked as stand-in on the science fiction comedy Galaxy Quest (1999, with Guy Richardson and Darius Montgomery).
External link
Edit
Ad blocker interference detected!
Wikia is a free-to-use site that makes money from advertising. We have a modified experience for viewers using ad blockers

Wikia is not accessible if you've made further modifications. Remove the custom ad blocker rule(s) and the page will load as expected.