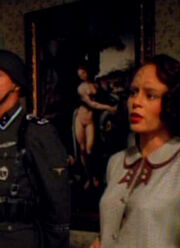 Leda and the Swan was a painting done by Leonardo da Vinci in the early 16th century in Europe on Earth. The painting depicted the story from Greek mythology in which Zeus came to Leda in the form of a swan.
The painting was one of the war-trophies in the Nazi headquarters in Sainte Claire, kept by the Kapitan. (VOY: "The Killing Game")
The painting is thought to be lost and probably destroyed, but before that many copies were made. Therefore, the painting seen in the episode was probably a copy.
External link
Edit