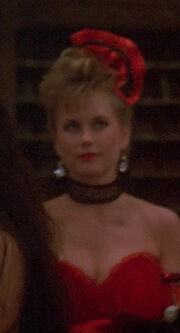 Laura Walsh (also known as Laura Lynd) is an actress who played a cocktail waitress in the Star Trek: The Next Generation second season episode "The Royale" in 1989. As a background actress she received no credit for this appearance.
Walsh also appeared in the television series One of the Boys (1989), Charles in Charge (1989), Life Goes On (1989, with Bill Smitrovich), Alien Nation (1989, with regulars Eric Pierpoint, Gary Graham, and Michele Scarabelli, and with Susan Gibney, James Greene, Joel Polis, and Steve Rankin), and Doogie Howser, M.D. (1993, with Lawrence Pressman and Rif Hutton). She was a presenter on the documentary series Reportage (1988-1994) and played background roles in the drama Dad (1989, with Richard McGonagle and Gregory Itzin) and the romantic sport comedy Side Out (1990, with Christopher Rydell).
More recently she lent her voice to the video game Grand Theft Auto III (2001) and had several roles in the talk show Jimmy Kimmel Live! (2004-2006).
External links
Edit
Ad blocker interference detected!
Wikia is a free-to-use site that makes money from advertising. We have a modified experience for viewers using ad blockers

Wikia is not accessible if you've made further modifications. Remove the custom ad blocker rule(s) and the page will load as expected.