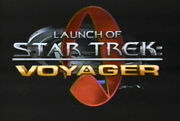 The Launch of Star Trek: Voyager was a documentary which was broadcast on the Sci-Fi Channel in the US on 12 January 1995.
Majel Barrett Roddenberry acted as narrator and interviewees included Kate Mulgrew, Robert Beltran, Roxann Biggs-Dawson, Jennifer Lien, Robert Duncan McNeill, Ethan Phillips, Tim Russ, Garrett Wang, Michael Piller, Jeri Taylor, David Livingston, Michael Westmore, and Robert Blackman.
This article or section is incomplete
This page is marked as lacking essential detail, and needs attention. Information regarding expansion requirements may be found on the article's talk page. Feel free to edit this page to assist with this expansion.
Ad blocker interference detected!
Wikia is a free-to-use site that makes money from advertising. We have a modified experience for viewers using ad blockers

Wikia is not accessible if you've made further modifications. Remove the custom ad blocker rule(s) and the page will load as expected.