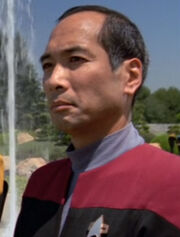 Larsen was a Human Starfleet officer during the 2370s, as played by a member of Species 8472.
In 2375, the Species 8472 member who impersonated Larsen trained at Terrasphere 8 for infiltrating the Federation. In that recreation, Larsen was assigned to the Federation Council to serve as deputy liaison officer by Admiral Bullock. (VOY: "In the Flesh")
It is unclear if there is a real Larsen in Starfleet or if the persona was created by Species 8472.