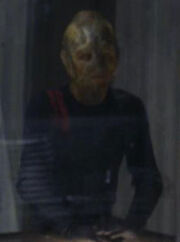 Larry Richards is the actor who appeared as an alien serving with Central Security in the Star Trek: Enterprise pilot episode "Broken Bow".
As actor, Richards appeared in movies like Things 3: Old Things (1998), Galaxy Quest (1999, with Rainn Wilson), Unspeakable (2000, with Roger Garcia) and Die Die Delta Pi (2013). He also appeared in episodes of Erotic Confessions and Angel.
Richards also worked in the camera and electrical department for Unspeakable and Die Die Delta Pie as well as several episodes of L.A. Heat (1999). He also has credits as cinematographer of Midnight Healing (2000), assistant director on Hollywood Mortuary (1998) and as Editor on Die Die Delta Pi.
External link
Edit
Ad blocker interference detected!
Wikia is a free-to-use site that makes money from advertising. We have a modified experience for viewers using ad blockers

Wikia is not accessible if you've made further modifications. Remove the custom ad blocker rule(s) and the page will load as expected.