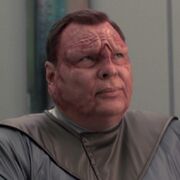 Larry Drake (born 21 February 1950; age 66) played Administrator Chellick in the Star Trek: Voyager episode "Critical Care". Drake is a well-known character actor with a number of credits to his name.
He is perhaps best known as the mentally-challenged office worker Benny Stulwicz on L.A. Law (alongside TNG guest star Corbin Bernsen) for which he won two consecutive Emmy awards (to the extent that fans who meet him have sometimes believed he is challenged in real life). He also played the villainous Robert G. Durant in Sam Raimi's Darkman and reprised the role in the sequel, Darkman II: The Return of Durant.
He has also made guest appearances on Firefly, Crossing Jordan, and Six Feet Under. In 2008, he guest-starred on Boston Legal, the ABC drama starring William Shatner and John Larroquette.
He starred with Star Trek: Deep Space Nine guest star Stephen Yoakam, as well as Sarah Silverman and Bruce Bohne, in the 1998 movie Overnight Delivery.
External links