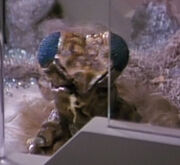 The lapling was a small, defenseless creature, which was believed to be extinct until one was found in Kivas Fajo's collection in 2366. It was characterized by large, blue compound eyes, brown skin, and a large mouth. (TNG: "The Most Toys")
Next to a pair of Corvan gilvos, models of a white rhinoceros and a Draco lizard, a life-size model of a lapling was among the exhibits in a science lab aboard the USS Enterprise-D. A special presentation for the school children about endangered and extinct animals was held there in 2368. (TNG: "New Ground")
The
lapling
was a hand puppet created by Michael Westmore. It bore a striking resemblance to a creature in the 1986 movie "The Flight of the Navigator", and may have been the same puppet.
Ad blocker interference detected!
Wikia is a free-to-use site that makes money from advertising. We have a modified experience for viewers using ad blockers

Wikia is not accessible if you've made further modifications. Remove the custom ad blocker rule(s) and the page will load as expected.