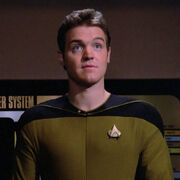 Lance Spellerberg (born 5 March 1960; age 57) is an actor who appeared as transporter chief Ensign Herbert in the two Star Trek: The Next Generation episodes "We'll Always Have Paris" and "The Icarus Factor".
He mainly does theater work, but has some mini-series and TV roles on his resumé.
External link
Edit
Ad blocker interference detected!
Wikia is a free-to-use site that makes money from advertising. We have a modified experience for viewers using ad blockers

Wikia is not accessible if you've made further modifications. Remove the custom ad blocker rule(s) and the page will load as expected.