Kukulkan's zoo was a collection of creatures kept aboard Kukulkan's starship by Kukulkan. Kukulkan's machinery created a virtual world for each creature so they could live peacefully in their native environment. (TAS: "How Sharper Than a Serpent's Tooth")
Although some of the creatures look like plants, the idea of creating a virtual habitat for a lifeform that doesn't have any cognitive capabilities seems absurd. Also, several of the creatures were in different cages in different shots; this is either an animation error or perhaps there were multiple specimens for each species.

In the audio commentary for "How Sharper Than a Serpent's Tooth",

David Wise

mentions that the zoo was to be filled with various animals that had been seen in earlier

TOS

episodes, including the

Horta

and a couple

tribbles

.
The Collection
Capellan power-cat
Unnamed creature #1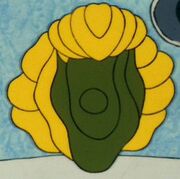 This is a green blob-shaped creature with blonde hair. It pulses in size from very small to large.

Unnamed creature #2
This red creature has long arms with feathery ends that wave around.

Unnamed creature #3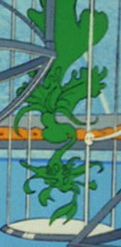 This is a relatively stationary tall green plant-looking creature.

Unnamed creature #4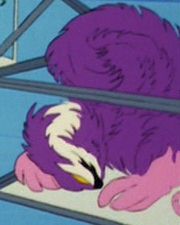 This is a furry mostly-purple creature.

Unnamed creature #5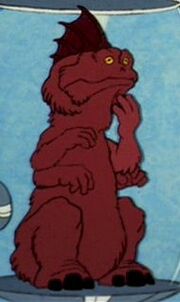 This is a creature with six appendages. It stands on its two hind legs with flat- bottomed feet, and has four short arms with hand-like paws. It has short brown fur and some reptilian characteristics as well.

Unnamed creature #6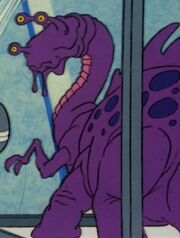 This is a purple reptilian creature with four legs with flat-bottomed feet, and two arms with hands of three non-opposable digits. It has three eyes that are each on the end of stalks. Two of the eyes are at the top of the head, and the other is at the nose. It also has a long neck.

Unnamed creature #7
This green creature has two legs, two arms and three eyes. The eyes have the capability to point in different directions from one another. The tail is three parts and furry.

Unnamed creature #8
This creature is very yellow.

Unnamed creature #9
A green creature with yellow spots.

Unnamed creature #10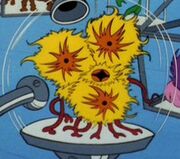 A creature with multiple yellow burst shaped furry chunks and several thin legs.

Unnamed creature #11
This creature is green and has two thick hind legs and four skinny black fore legs. It has a long neck with a mouth-only head. Its two eyes are on its chest.

Unnamed creature #12
This "friendly little darlin'" is a yellow cat-like animal with four legs and a long neck.

Unnamed creature #13
A giant orange ball of thick spindly protrusions.

Unnamed creature #14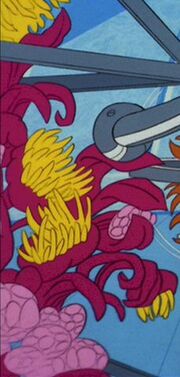 A creature, mostly red with pink parts and yellow hair clusters.

Unnamed creature #15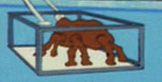 A blurry brown thing.
It's very blurry, and it might have been intended to be the power-cat, although the power-cat was sleeping in other shots. It's possible that it is an arachnid or insect species.