Ad blocker interference detected!
Wikia is a free-to-use site that makes money from advertising. We have a modified experience for viewers using ad blockers

Wikia is not accessible if you've made further modifications. Remove the custom ad blocker rule(s) and the page will load as expected.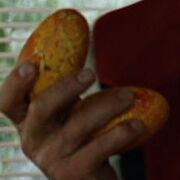 Ktarian eggs were a Ktarian food item, specifically a type of egg, popular in the Federation. They were yellow with tan speckles.
When prepared with dill weed, they were a favorite breakfast dish of Antonia, James T. Kirk's love affair in the early 2280s. Kirk prepared scrambled eggs for Antonia, in order to soften the blow of his re-joining Starfleet. (Star Trek Generations)