Ad blocker interference detected!
Wikia is a free-to-use site that makes money from advertising. We have a modified experience for viewers using ad blockers

Wikia is not accessible if you've made further modifications. Remove the custom ad blocker rule(s) and the page will load as expected.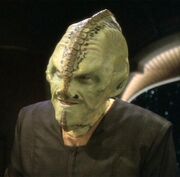 Krit's species were a green-skinned Humanoid race from the Alpha or Beta Quadrant. This species had encountered Humans, Lurians, and Lissepians by 2365.
Two brothers of this species, Krit and Nahsk, took part in the infamous Lissepian Mother's Day Heist in 2365. (DS9: "Who Mourns for Morn?")
This species looks similar to the also-unnamed species of Grathon Tolar, which has a blue rather than green hue. (DS9: "In the Pale Moonlight")