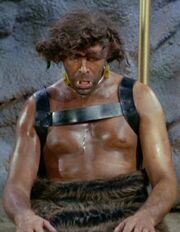 Kloog was a large, dark-skinned humanoid with fangs and bushy eyebrows who was held captive on the planet Triskelion, where he served as a thrall.
He was killed by Captain Kirk when the two fought each other in 2268 in order for him to reunite with his crew. (TOS: "The Gamesters of Triskelion")
Kloog was played by actor Mickey Morton.

Judging by his appearance, Kloog may have been a

Kalar

.