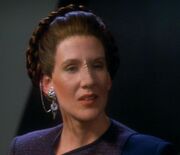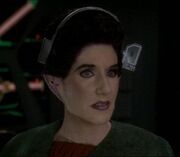 Kathryn A. "Kitty" Swink (born 22 October 1954; age 62) is an American actress and the wife of Quark actor Armin Shimerman. She appeared (but not with him) on her husband's series, Star Trek: Deep Space Nine, twice. Her first appearance was as the Bajoran Minister Rozahn in the episode "Sanctuary" and her second appearance was as the Vorta Luaran in the episode "Tacking Into the Wind". She also provided the voice of Luaran in the video game Star Trek: Deep Space Nine - The Fallen.
Swink has guest starred in Babylon 5 (1995, with Bill Mumy, Andreas Katsulas and Tucker Smallwood), The Agency (2001, with David Clennon, Ronny Cox, and Heidi Schultz), Becker (2002, with Terry Farrell), NYPD Blue (2004, with Gordon Clapp), Monk (2007), and Crossing Jordan (2007), and Leverage (2009, with Brent Spiner, Armin Shimerman, and with Jonathan Frakes directing). She became a SAG Health Plan Trustee along with William Schallert and Barry Gordon. Swink, like William Schallert, Joseph Ruskin and Barry Gordon served on the Screen Actors Guild Executive Board of Directors and then became a Trustee at the Screen Actors Guild Pension and Health Plan.
External links
Edit
Ad blocker interference detected!
Wikia is a free-to-use site that makes money from advertising. We have a modified experience for viewers using ad blockers

Wikia is not accessible if you've made further modifications. Remove the custom ad blocker rule(s) and the page will load as expected.