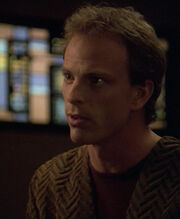 Kirk Baily (born 2 February 1963; age 54) played the part of Magnus Hansen in the Star Trek: Voyager episode "Dark Frontier". He also provided voiceovers for Crewman Mitch Cstalos and a Malon in the video game Star Trek: Voyager - Elite Force.
Kirk has worked primarily as a voice artist on a number of anime shows, including Cowboy Bebop, Ghost in the Shell: Stand Alone Complex, and .hack//. He got his start as a sound coordinator on the movie Killer Klowns from Outer Space (1988) before getting acting roles in television and film, including Salute Your Shorts (1991), 3 Ninjas: High Noon at Mega Mountain (1998), and a number of guest roles on shows such as Felicity, Sisters, and NYPD Blue (with Sharon Lawrence).
External link
Edit
Ad blocker interference detected!
Wikia is a free-to-use site that makes money from advertising. We have a modified experience for viewers using ad blockers

Wikia is not accessible if you've made further modifications. Remove the custom ad blocker rule(s) and the page will load as expected.