Ad blocker interference detected!
Wikia is a free-to-use site that makes money from advertising. We have a modified experience for viewers using ad blockers

Wikia is not accessible if you've made further modifications. Remove the custom ad blocker rule(s) and the page will load as expected.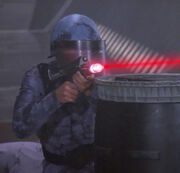 Kill setting was the term used for the yield setting on a directed energy weapon such as a phase-pistol, plasma rifle, phaser or a disruptor strong enough to cause the death of a humanoid lifeform. (ENT: "Broken Bow", "Cease Fire"; DS9: "Second Skin")
On a type 2 phaser used by the Starfleet in the 23rd century, "one-quarter" was another term for the kill setting. In the 24th century, the setting was known as "level 10". (TOS: "The Man Trap"; TNG: "Aquiel")
On phase-pistols used by Starfleet personnel in the mid-22nd century, the kill setting was the normal maximum setting, and was rated at a yield of 5 megajoules. (ENT: "Broken Bow", "Regeneration")
Cardassian phase-disruptor rifles were also similarly designed with only two settings and the maximum yield of 4.7 megajoules. (DS9: "Return to Grace")
The impact of a phaser or a disruptor blast set to kill left behind an electrostatic charge. (DS9: "Second Skin") A phaser set to kill also left behind a distinct phaser burn on clothing. In 2370, Jason Vigo suggested to Bok that he could create such a phaser burn on his shirt and send it to Captain Jean-Luc Picard, to try to convince him that Bok had killed him. (TNG: "Bloodlines")
Applications
Edit
Andorian rifles used by the Andorian Imperial Guard in the mid-22nd century were set to kill by default; they had no stun setting. (ENT: "Cease Fire")
The energy discharges fired by an Andorian rifle were identified as plasma bursts in the script of "Cease Fire".
[1]
When a phase-pistol set to kill only grazed a target, it was possible to survive from the hit. (ENT: "United")
The kill setting on hand phasers used by the Mordanites in 2364 had a distinct sound from the stun setting. (TNG: "Too Short a Season")
To a Human infected by a neural parasites, the kill setting only caused unconsciousness, due to the high levels of adrenaline stimulated by the parasite. However, extended exposure to a body part such as the head of a humanoid would still cause it to explosively vaporize. Two phasers set to kill could also vaporize smaller lifeforms such as the neural parasite mother creature with extended exposure. (TNG: "Conspiracy")
In 2366, Commander William T. Riker of the USS Enterprise-D was forced to use his phaser to disintegrate the Acamarian servant girl Yuta to prevent her from killing the Lornak tribe leader Chorgan. Stun and kill settings only caused her to recoil in pain due to her genetic enhancements. (TNG: "The Vengeance Factor")