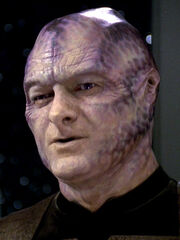 Kevin Lowe is the actor who played Q'ret in the Star Trek: Voyager episode "Ashes to Ashes".
Lowe has also appeared on such television shows as Baywatch, Murphy Brown, Mike Hammer, Private Eye, Beverly Hills, 90210 (with Leigh Taylor-Young), and a Terrence O'Hara-directed episode of JAG (with Steven Culp and Steve Vinovich). In 1993, Lowe had a recurring role as Federal Agent Brown on the western series The Adventures of Brisco County, Jr., on which he worked with fellow Star Trek performers Bill Bolender, Dennis Cockrum, Brian Cousins, Richard Herd, Bert Remsen, and Melanie Smith and TNG directors Kim Manners and Win Phelps.
Lowe had a supporting role in the 1980 horror film Mother's Day. Along with Stephen Davies, Tracy Scoggins, and Bill Zuckert, Lowe appeared in the 1993 direct-to-video science fiction movie Alien Intruder. Lowe can also be seen in the thrillers In the Kingdom of the Blind (1995), co-starring Paul Winfield, and The Corporate Ladder (1997), with Ben Cross. More recently, Lowe appeared in two action comedies directed by Brett Ratner: 1997's Money Talks (co-starring Larry Hankin, Daniel Roebuck, Paul Sorvino, and David Warner) and 1998's Rush Hour (with Tzi Ma and Mark Rolston).
Lowe has a few made-for-TV movie credits, as well, including 1991's Sins of the Mother (with Biff Yeager), 1993's Murder of Innocence (co-starring Jerry Hardin, Frank Novak, and Anne Ramsay), and the Emmy Award-winning Tuesdays with Morrie (1999, with John Billingsley, Aaron Lustig, and John Carroll Lynch).
External links
Edit