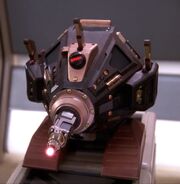 Kevin D. Carlson is a professional puppeteer who worked as puppeteer for the exocomps in the Star Trek: The Next Generation sixth season episode "The Quality of Life" in 1993. [1]
Carlson, who hails from California, is well known for his work with Jim Henson including the television series Sesame Street, Dinosaurs (1991-1994, with fellow "muppeteer" Michelan Sisti)and Muppets Tonight (1996-1998) and the feature films Muppet Classic Theater (1994), Elmopalooza (1998), Dr. Doolittle (1998) and its sequel Dr. Doolittle 2 (2001), Cats & Dogs (2001, with Michael Clarke Duncan and Salome Jens), and The Muppets (2011, with Bill Cobbs).
Other projects on which he worked include the fantasy comedy Beetle Juice (1988, with Winona Ryder), the horror sequel Child's Play 2 (1990, with Brad Dourif and Gerrit Graham), the comic adaptation Batman Returns (1992), the comedy Theodore Rex (1995, with Whoopi Goldberg and Stephen McHattie), the science fiction comedy Men in Black (1997) and its sequel Men in Black II (2002), the comedy The Flintstones in Viva Rock Vegas (2000, with Joan Collins), the puppet movie Team America: World Police (2004), the family comedy The Last Day of Summer (2007), and the comedy Forgetting Sarah Marshall (2008). Television work includes Pee-wee's Playhouse (1986-1991, with John Paragon), The Adventures of Timmy the Tooth (1995), All That (1998), Sabrina, the Teenage Witch, Stargate SG-1, That's My Bush! (2001), The Office (2006, with Spencer Daniels), SpongeBob SquarePants (2007), Imagination Movers (2008-2010), and Zeke and Luther.
Carlson also teaches puppetry for film and television and is the National Chairperson of the SAG Puppeteers Committee.
External links
Edit