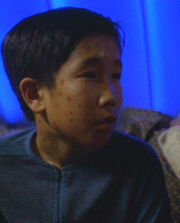 Kenny Yee is the actor who portrayed the young Harry Kim in the Star Trek: Voyager episode "Favorite Son". He received no credit for this part.
In 1994 Yee portrayed a rascal in the comedy The Little Rascals, which also featured Trek performers Whoopi Goldberg and Aruni Devi Hansen.
External link
Edit
Ad blocker interference detected!
Wikia is a free-to-use site that makes money from advertising. We have a modified experience for viewers using ad blockers

Wikia is not accessible if you've made further modifications. Remove the custom ad blocker rule(s) and the page will load as expected.