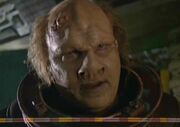 Ken Magee is an actor who played the Malon Controller Emck in the Star Trek: Voyager episode "Night".
Magee is engaged to actress Madonna Young.
Among his acting resume are television series such as Mork & Mindy (1979, with Gregory Itzin), Murder She Wrote (1994, with Robert Curtis Brown, Lisa Wilcox, and Bruce Gray), Chicago Hope (1997, with Lawrence Monoson), Becker (1999, with Terry Farrell), ER (2002, with Gina Philips), and Stacked (2005, with Christopher Lloyd).
He also appeared in films such as The Postman Always Rings Twice (1981, with John Colicos and Albert Henderson), Three of Hearts (1993, with Gail Strickland and Alex Daniels), The Relic (1997, with Clayton Rohner, Constance Towers, and Denney Pierce), Dill Scallion (1999, with Billy Burke, Spencer Garrett, and Kenny Koch), Heartbreakers (2001, with Sarah Silverman and Jack Shearer), and Seabiscuit (2003, with Michael Ensign, Ed Lauter, Shay Duffin, Michael Buchman Silver, and Kevin Derr).
External link