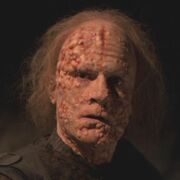 Ken Land is the actor who played Verin in the Star Trek: Voyager episode "Friendship One". [1]
Land began his acting career in a 1995 televised remake of the classic Victor/Victoria. The original 1982 film starred Martin Rayner and John Rhys-Davies. Land did not work on anything with a Trek actor until he appeared on Judging Amy with Daphne Ashbrook and Clarence Williams III. This was followed by an episode of Malcolm in the Middle with triple Trek guest star Sherman Howard and single Star Trek: Deep Space Nine guest actor Kenneth Mars. Land was then seen on Six Feet Under starring James Cromwell. Land stayed with drama on Crossing Jordan starring Miguel Ferrer in an episode with Star Trek: The Next Generation guest Ned Vaughn.
It was on Boston Legal that Land was in a production with multiple Trek alumni. The series at the time starred Rene Auberjonois and William Shatner; Land's episode, "Word Salad Days", featured Ron Canada, Christopher Carroll, Kelly Connell, Jennifer Parsons, and Joel Polis. The only film in Land's career to team him with a Trek actor was 44 Minutes: The North Hollywood Shooting, with Douglas Spain and Jay Underwood.
External link
Edit