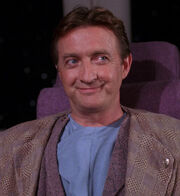 Ken Jenkins (born 28 August 1940; age 75) is the actor who portrayed Doctor Paul Stubbs in the Star Trek: The Next Generation third season episode "Evolution". He is most recognized as Dr. Bob Kelso on the critically-acclaimed NBC/ABC medical comedy, Scrubs on which he worked between 2001 and 2010. DS9 guest star Charles Chun has a recurring role on the series.
Jenkins has also found recent success in feature films, with roles in Last Man Standing (with Patrick Kilpatrick) The Sum of All Fears (which co-starred James Cromwell), Clockstoppers (directed by Jonathan Frakes), I Am Sam, The Tailor of Panama, Lucky Numbers, and Courage Under Fire. He also appeared in the television film White Mile (1994, with Robert Picardo, Jacqueline Kim, Dakin Matthews, Fionnula Flanagan, Dan Kern, Brian Markinson, Dan Gilvezan, Gina Ravarra, Brett Porter, Ken Thorley, Don McManus, and stuntman Tom Lupo)
Television credits include appearances on Beverly Hills, 90210, Family Law, The X-Files (with DS9's Penny Johnson), Babylon 5, NYPD Blue, Cybil, Thirtysomething, Mancuso, FBI, and Stephen King's The Stand (co-starring TNG's Ray Walston and Matt Frewer).
External links