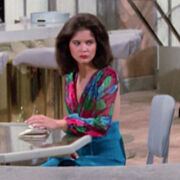 Kelly Ashmore portrayed Francine in the Star Trek: The Next Generation first season episode "We'll Always Have Paris".
In 1989 she had a featured part in the thriller Nowhere to Run with Brenda Bakke and Kieran Mulroney. One year later she had a guest role in the Dragnet episode "Strawberries Are in Season" along Michael Harris. In 1992 Ashmore had a recurring role as Veronica in four episodes of the comedy series Rachel Gunn, R.N.. Also featured in these episodes were Trek performers Debi A. Monahan and Dennis Cockrum.
External link
Edit
Ad blocker interference detected!
Wikia is a free-to-use site that makes money from advertising. We have a modified experience for viewers using ad blockers

Wikia is not accessible if you've made further modifications. Remove the custom ad blocker rule(s) and the page will load as expected.