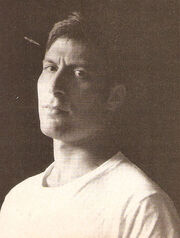 Keith D. Sharee (born 11 August 1955; age 62) is an author who wrote the Star Trek novel Gulliver's Fugitives (Pocket TNG #11). Sharee was interviewed by Michael McAvennie for the article "Keith Sharee – Imaginary Games" for The Official Star Trek: The Next Generation Magazine Vol. 12, pp. 49-52.
External link
Edit
Ad blocker interference detected!
Wikia is a free-to-use site that makes money from advertising. We have a modified experience for viewers using ad blockers

Wikia is not accessible if you've made further modifications. Remove the custom ad blocker rule(s) and the page will load as expected.