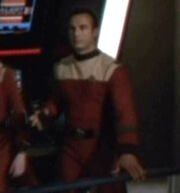 Kavon Karami is an actor who appeared as an Excelsior security officer in the Star Trek: Voyager third season episode "Flashback". Karami filmed his scene along with Sara Hart on Thursday, 4 April 1996 on Paramount Stage 16.
Karami appeared in the 2009 CSI: Crime Scene Investigation episode "The Descent of a Man", with Wallace Langham and Liz Vassey. He portrayed featured parts in the short drama In the Dark (2008, with Omid Zader), the short thriller Hardy (2013), and the television comedy My Persian Family (2014).
External link
Edit
Ad blocker interference detected!
Wikia is a free-to-use site that makes money from advertising. We have a modified experience for viewers using ad blockers

Wikia is not accessible if you've made further modifications. Remove the custom ad blocker rule(s) and the page will load as expected.