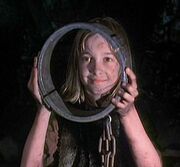 Katie Jane Johnston (born 13 February 1979; age 38) was one of four performers to play the role of Martia in the movie Star Trek VI: The Undiscovered Country. Johnston played Martia in the form of a child.
Johnson appeared in a recurring role on the ABC drama Once and Again alongside Billy Campbell, Jeffrey Nordling, and Susanna Thompson. Other roles included The Prince and the Surfer (1999; with Vincent Schiavelli) and Killing Mr. Griffin (1997; with Jennifer Hammon and Scott Jaeck).
External link
Edit
Ad blocker interference detected!
Wikia is a free-to-use site that makes money from advertising. We have a modified experience for viewers using ad blockers

Wikia is not accessible if you've made further modifications. Remove the custom ad blocker rule(s) and the page will load as expected.