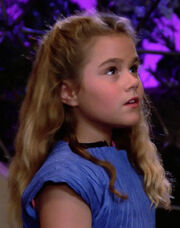 Katie was a Human child, born in 2352, who lived aboard the USS Enterprise-D during in the mid-24th century.
In 2364, Katie was one of several Enterprise children kidnapped by the Aldeans in an effort to re-populate their planet. At the time of her kidnapping she was playing a musical instrument in her quarters. She later participated in Wesley Crusher's attempt at passive resistance. (TNG: "When The Bough Breaks")
Katie was played by Jandi Swanson; her age was taken from the script.