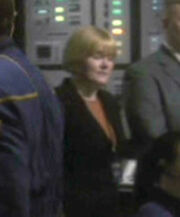 Kathleen J. Grant is a Navy Counselor 1st Class of the USS Enterprise CVN-65 who was named "Sailor of the Year" in 2003 along with fellow sailors James D. Frey and Thomas P. Hunt. Together they had featured parts in the second season Star Trek: Enterprise episode "First Flight" and filmed their scenes on 18 March 2003. Grant portrayed a senator [1]. They also gave an American flag to Scott Bakula, Connor Trinneer, and the episode's director LeVar Burton.
External link
Edit
Ad blocker interference detected!
Wikia is a free-to-use site that makes money from advertising. We have a modified experience for viewers using ad blockers

Wikia is not accessible if you've made further modifications. Remove the custom ad blocker rule(s) and the page will load as expected.