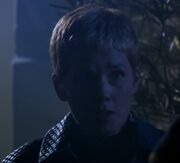 Kate McNeil (born 17 August 1959; age 56) is the actress who played Commander Collins in the Star Trek: Enterprise episode "Affliction".
From 1981-1984, McNeil was a regular on the American soap opera As the World Turns. She also starred in WIOU and Bodies of Evidence in the early 1990s. The latter also starred George Clooney, but both series were short-lived. McNeil was also cast as the wife of John-Boy Walton in the three television movies based upon the successful family drama of the 1970s, The Waltons.
McNeil has appeared in guest roles on a number of notable television series. Her credits include Designing Women, Babylon 5, Quantum Leap, Ally McBeal, The X-Files and ER. She has also made the rounds on a number of CBS procedural series in a short span of time: CSI, Without a Trace, NCIS and Cold Case. Her most recent television appearances were on Veronica Mars and Bones.
External links