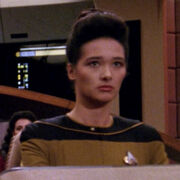 Karen Baxter is an actress who had the recurring background part of an operations division ensign in several episodes of Star Trek: The Next Generation. She received no credit for her appearances and was identified by the call sheets of the episodes.
Baxter also filled in as stand-in for Jennifer Hetrick during the filming of the episode "Qpid" and as stand-in for Barbara Tarbuck on the episode "The Host" and for Rosalind Chao on "In Theory".
According to the call sheets she was also scheduled to appear in engineering scenes in the fourth season episode "In Theory" and in the fifth season episode "Darmok" but was either not filmed or cut from the final episodes.
Appearances