Ad blocker interference detected!
Wikia is a free-to-use site that makes money from advertising. We have a modified experience for viewers using ad blockers

Wikia is not accessible if you've made further modifications. Remove the custom ad blocker rule(s) and the page will load as expected.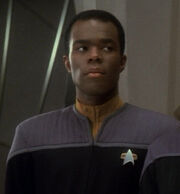 Kagan was supposedly a Starfleet ensign assigned to Internal Affairs. In actuality, Kagan was a hologram within a Section 31 simulation.
As part of the program, he accompanied Luther Sloan to Deep Space 9, during the investigation of Doctor Julian Bashir. Bashir was accused of being a Dominion spy. When Bashir was arrested, Kagan escorted him to a holding cell and was outraged at Bashir. He claimed that he was a member of the Seventh Fleet and had lost many good friends in the battle with the Jem'Hadar in the Tyra system. (DS9: "Inquisition")