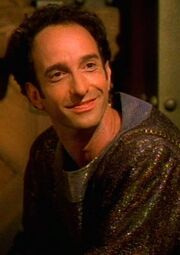 Kafar was a Takarian servant to Arridor and Kol when the two Ferengi posed as the Great Sages on the Takarian homeworld in 2373.
As the servant of the "Great Sages," he lived in relative luxury while the rest of the poverty-stricken planet struggled to survive. When USS Voyager beamed the "Sages" aboard, Kafar assumed he would inherit their power. He later led the mob that attempted to send the "Sages" and Neelix back where they came from. After the "Sages" departed, Kafar began handing out their accumulated wealth to the citizens. (VOY: "False Profits")
Ad blocker interference detected!
Wikia is a free-to-use site that makes money from advertising. We have a modified experience for viewers using ad blockers

Wikia is not accessible if you've made further modifications. Remove the custom ad blocker rule(s) and the page will load as expected.