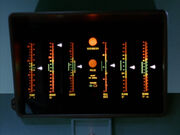 The K3 indicator was a measurement marker used by the 23rd century body function panel. This marker, not normally active, measured the level of pain experienced by a patient.
While treating Spock for a neural parasite infiltration in 2267, Doctor McCoy activated this indicator to illustrate to Captain Kirk how much pain the creature was inflicting. The indicator rose variably between 75% to 85% of its maximum; McCoy commented that it was "no wonder the poor devils go mad", implying that the pain indicated was severe. When Spock continued to speak, the indicator increased to nearly 100%. (TOS: "Operation -- Annihilate!")
The
Star Fleet Medical Reference Manual
describes the K3 indicator as displaying the "electrical activity" of the brain of a patient, while conceding that extreme activity
may
indicate high levels of pain. This means that it would
not
be considered a true "dolorimeter," or pain-measurement device.