Warning!
This page contains information regarding new Star Trek material, and thus may contain spoilers.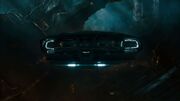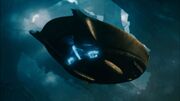 A K'normian trading ship was a type of starship used by the K'normians. This small vessel was capable of supporting five passengers, plus cargo, and had no offensive weaponry.
A ship of this type was confiscated by the crew of the USS Enterprise during the Mudd Incident of January 2259. A month later, this ship was used by a landing party led by Captain James T. Kirk on a mission to capture John Harrison on Qo'noS. (Star Trek Into Darkness)
A concept illustration of the K'normian trading ship can be viewed here.