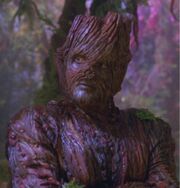 Justin Louis (born 20 February 1967; age 50), also known as Louis Ferreira, is the actor who played the holographic fairy tale character Trevis in the Star Trek: Voyager episode "Once Upon a Time". On January 16, 2009, it was announced that he would play Colonel Everett Young, a lead role in the third Stargate franchise series, Stargate Universe. Louis has appeared on CSI: Crime Scene Investigation and CSI: Miami. The former reunited Louis with fellow Voyager guest star Wallace Langham. On the latter, Louis acted with Anthony Holiday and Michael Buchman Silver. He recently has appeared as Colonel Hall in the Canadian science fiction series Primeval: New World.
External links
Edit
Ad blocker interference detected!
Wikia is a free-to-use site that makes money from advertising. We have a modified experience for viewers using ad blockers

Wikia is not accessible if you've made further modifications. Remove the custom ad blocker rule(s) and the page will load as expected.