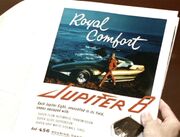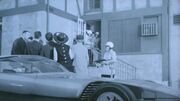 The Jupiter 8 was a two-seat sports car marketed to the inhabitants of the planet 892-IV. It was first viewed by the crew of the USS Enterprise in the television news footage upon entering orbit of the planet.
Described as "Royal Comfort" and "unexcelled in its field," it had a conventional internal combustion engine with 456 horsepower, a super-flow automatic transmission, a super-glide suspension system, and super-grip white sidewall tires. Upon reading an advertisement in The Gallian, which described the Jupiter 8's features, the Enterprise landing party determined that its power source was, in part, the cause for the planet's smog. (TOS: "Bread and Circuses")
The Jupiter 8 was "played" by the Reactor, a custom aluminum show car designed by Gene Winfield and completed in 1965. The Reactor was based on a 1956 Citroën DS chassis and powered by a Chevrolet Corvair engine. The hand-built car featured electronically-operated doors, hood and roof. It was painted metallic green. The car also made an appearance in the 1968
Mission: Impossible
episode, "The Freeze" (which also referenced the drug cordrazine). The Reactor still exists and was featured in the 2005 Bilsport Performance and Custom Motor Show in Jönköping, Sweden. Gene still owns it and keeps it at his custom car compound on Sierra Highway south of Mojave, California (home of Captain Christopher Pike). One may see it by attending Gene's annual party in October.