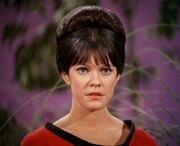 Julie Cobb (born 29 May 1947; age 68) played Yeoman Leslie Thompson in the Star Trek: The Original Series episode "By Any Other Name". She is the daughter of noted actor Lee J. Cobb, the mother of Star Trek: Voyager guest-star Rosemary Morgan and the ex-wife of James Cromwell, who played Zefram Cochrane.
She and DS9 guest star Kate Asner both appeared in the motion picture Dr. Jekyll and Ms. Hyde.
More recently Cobb appeared in the 2007 film The Happiest Day of His Life, co-starring Harry Groener and Seymour Cassel, and the 2008 film Jelly along with her daughter Rosemary, and Rick Overton (from Trekkies).
External links