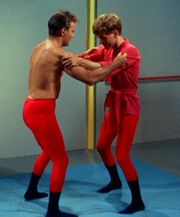 Judo was a sport and a martial art that originated from Japan on Earth. It involved throws, pins, and submissions.
Captain James T. Kirk demonstrated his knowledge of judo in hand-to-hand combat against numerous foes. In an attempt to befriend young Charles Evans, Kirk taught him basic judo techniques. (TOS: "Charlie X")
External links
Edit
Ad blocker interference detected!
Wikia is a free-to-use site that makes money from advertising. We have a modified experience for viewers using ad blockers

Wikia is not accessible if you've made further modifications. Remove the custom ad blocker rule(s) and the page will load as expected.