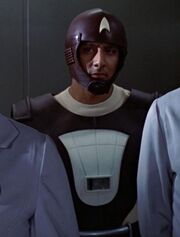 Joshua Gallegos is an actor who played Ensign Perez in Star Trek: The Motion Picture and was credited as "Security officer".
Gallegos' resume includes guest appearances in television series such as Charlie's Angels (1977, with Ivy Bethune), Fantasy Island (1979, with Ricardo Montalban and Barbara Luna), The Fall Guy (1986, with Anthony James and Dennis Ott), and St. Elsewhere (1986, with France Nuyen and Chad Allen).
He has also performed in films such as Joey and Redhawk (1978), Death Wish II (1982, with Jill Ireland), The Family Martinez (1986, with Robert Beltran and Denise Crosby), Salvador (1986, with John Savage and Valerie Wildman), The Trial of Standing Bear (1988, with William Shatner), and Across the Line (2000, with Marshall R. Teague, Steve Vinovich, and Carlos Carrasco).
External link
Edit
Ad blocker interference detected!
Wikia is a free-to-use site that makes money from advertising. We have a modified experience for viewers using ad blockers

Wikia is not accessible if you've made further modifications. Remove the custom ad blocker rule(s) and the page will load as expected.