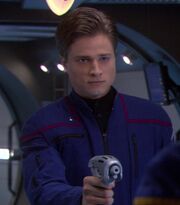 Josh Burnett Holt is an actor who played Ensign Masaro in the Star Trek: Enterprise episodes "Damage" and "Terra Prime". He was not credited in the former episode.
Before his guest role in Enterprise Holt played minor roles in the Gilmore Girls episode "The Reigning Lorelai" (2004, written by Jane Espenson) and in the Jack & Bobby episode "Today I Am a Man" (2004, featuring TNG guest actor Saul Rubinek).
Holt has performed in the horror film Boo (2005), the drama Our Very Own (2005, starring Keith Carradine and with Autumn Reeser), and has recently completed the film Good Dick (2007).
External link
Edit