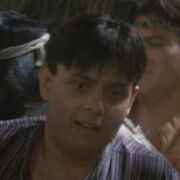 Joseph Palmas played the role of Antonio in the Star Trek: Voyager episode "Tattoo". He also performed in an early episode of Law & Order (along with Vanessa Williams), Scent of a Woman, and, most recently, Larger Than Life (with Christopher Darga, Tracey Walter, Earl Billings, Harve Presnell, Darlene Williams, Jennifer Caputo, and Mark Chadwick).
External link
Edit
Ad blocker interference detected!
Wikia is a free-to-use site that makes money from advertising. We have a modified experience for viewers using ad blockers

Wikia is not accessible if you've made further modifications. Remove the custom ad blocker rule(s) and the page will load as expected.