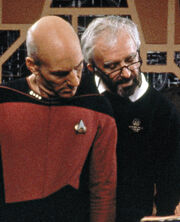 Joseph L. Scanlan directed four episodes of Star Trek: The Next Generation. After directing four episodes and seeing how out of control the cast would act when not filming, Scanlan walked out and refused to ever direct any further episodes of TNG again and he never did. [1]
Scanlan has also directed episodes of Spenser: For Hire, which starred Avery Brooks (Benjamin Sisko from DS9), and Quantum Leap, starring Scott Bakula (Jonathan Archer from ENT). He also directed an episode of Gene Roddenberry's Earth: Final Conflict and several episodes of The Outer Limits (including one starring Brent Spiner).
Directorial credits
Edit
External links
Edit
Ad blocker interference detected!
Wikia is a free-to-use site that makes money from advertising. We have a modified experience for viewers using ad blockers

Wikia is not accessible if you've made further modifications. Remove the custom ad blocker rule(s) and the page will load as expected.