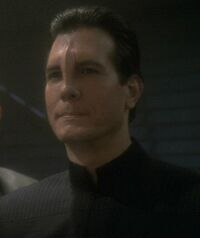 Joseph Culp (born 9 January 1963; age 54) played Raimus in the Star Trek: Deep Space Nine episode "Honor Among Thieves". He is the son of the late actor Robert Culp. Star Trek: The Original Series guest star France Nuyen is his former stepmother.
Among the motion pictures Culp has appeared in are Apollo 13 (with Max Grodénchik, Brett Cullen, Clint Howard, Andy Milder and Googy Gress) and Hunger.
Culp has guest starred in Highway to Heaven, ER and House, M.D.. Culp has recently had a recurring role on Mad Men (with Deborah Lacey and J. Patrick McCormack) playing the father of Jon Hamm's character of Don Draper.
External link
Edit
Ad blocker interference detected!
Wikia is a free-to-use site that makes money from advertising. We have a modified experience for viewers using ad blockers

Wikia is not accessible if you've made further modifications. Remove the custom ad blocker rule(s) and the page will load as expected.