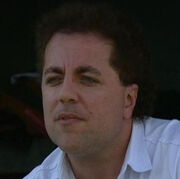 John M. Wastaferro, known as Jonathan West, was director of photography on Star Trek: The Next Generation from 1992 to 1994. After that series ended he became a director of photography on Star Trek: Deep Space Nine until that series ended in 1999.
He also directed several episodes of both series, including the celebrated episode "Trials and Tribble-ations". Kris Krosskove substituted West as director of photography on these occasions. West received an Emmy Award nomination for Outstanding Cinematography for a Series for the DS9 episode "Apocalypse Rising". He has also been nominated for his camera work on the 1991 television movie The Whereabouts of Jenny (starring David Graf) and an episode of CSI.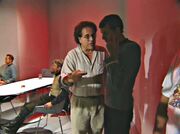 After leaving Star Trek at the end of DS9, West moved on to the hit CBS series CSI and then served as cinematographer and occasional director of Charmed, until that series ended. After that he spent a short while as cinematographer on The Loop, then as second unit director and cinematographer on Las Vegas. As of 2009 West is largely retired from the film and television industries, and focuses on teaching and consultancy work.
Star Trek credits Edit
As Director
As Director of Photography
Star Trek interviews Edit
External links
Edit
Ad blocker interference detected!
Wikia is a free-to-use site that makes money from advertising. We have a modified experience for viewers using ad blockers

Wikia is not accessible if you've made further modifications. Remove the custom ad blocker rule(s) and the page will load as expected.