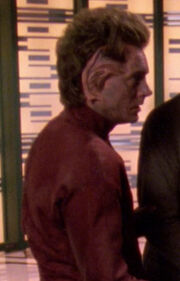 Jonathan Paley is the actor who portrayed the Atrean aide in the Star Trek: The Next Generation seventh season episode "Inheritance" in 1993. As a background actor he received no credit for his appearance and was identified by the name tag of his costume which was sold off on the It's A Wrap! sale and auction on eBay. On the tag his name was misspelled as Johnathon Paley. [1]
Paley had supporting roles in the comedy Beach House (1982, with Kate McNeil), the drama Disturbing the Peace (1996), and the Minor Adjustments episode Make My Day (1996). In addition he served as stand-in for Denis Leary in the drama Bad Boy (2002, with Larry Cedar and stunts by Shauna Duggins) and for Chris Cooper in the Academy Award winning drama Adaptation (2002, with Jim Beaver and Gregory Itzin).
External link
Edit
Ad blocker interference detected!
Wikia is a free-to-use site that makes money from advertising. We have a modified experience for viewers using ad blockers

Wikia is not accessible if you've made further modifications. Remove the custom ad blocker rule(s) and the page will load as expected.